Moderator: Forum Moderators
My project is total opensource

Any player can make the cards they want following a scoring rule, the stronger the card, the higher the score.

The card have 3 typology A B C creature card(A) and support card(B,C)

A system drag and drop in a game can make a personal card,
The deck have a cost any format have a cost for playng, for example my deck cost is 350 i dont play the 300 Deck format bat a can play 350 Deck Format.
The card pictures can have a database of Wesnoth potrait and pixel art or a simple default image.

Any player can make a room with a torunament or draft.

The power of this game is The Gnu Licens and The comunity in a round, they can make wesnoth an icon

it would be nice to find a team to work on it

Sorry for my google translate inglish.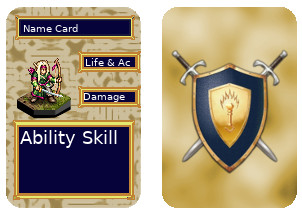 another card game layout
Posts: 217
Joined: December 17th, 2015, 10:27 pm
What engine are you using? I am unclear as to how exactly play proceeds in a "room".

I have little experience or interest in designing these sorts of things, however, so I would probably not be much help.
Godot Engine whit the Python language
the game have an intelligence drag and drop system editor for card, any player can make the card with a database skill finder, for example:
a make a classic spell card for you
Category A
-- Offensive Skill
---- 3 damge = +2 point
Category B
-- Target
--- Enemy Creature +5
Catogory =C
--condition
--- when activate (default condition) =+3
The card have 10 point, now for example any mana cost -1 point, i add two mana and the card cost 8 Point
The result of card
Spell card (B)
Name Card= X
Cost = 2
Picture card=default
Effect = Inflict 3 damage on target Enemy creature
Deck cost 5
For monster the point assignment on Attack is Work in progress, in this moment whit a equation i calculate that the card is Max of normal if have 3 cost 3/3 no effect.
So a card 1/1 no effect cost 1 is (MAX of Normal) but i prefer create a card with Cost 0 Attack 99999 i try it but the cost of this card is 99999 and is not usable for play game
So can try to create a monster card
Category A
-- Offensive Skill
---- 3 damge = +2 point
Category B
-- Target
--- One Target(all, player or card) +15
Category C
--condition
---when enter on board +3
Attack 2/1 = 3 = 3
cost 4 mana = -4
the result:
Card name = X
Card cost =4
Card Pictures = Default database
Typology= A
-- Type= Default database
Effect = when enter on board inflict 3 damage on a target
Offensive = 2/1
Card cost = 2+3+3+15-4 = 19
each copy of this card cost 19 point each copy of other card cost 8 point
4 copy of A and B= is 108 point, for this i think that monster card cost of 19 is big and i prefer put in my deck 1 copy of that same card because 4 copy of this card unbalance the rest of card in deck!!!! if i chose the Lowest point Format Mode.

This game is very cool for this
Posts: 753
Joined: November 17th, 2007, 1:10 pm
Location: Argentina
Wow, this looks really interesting!