Moderators: Forum Moderators, Developers
Forum rules
Before posting critique in this forum, you must read the following thread:
I did check up for wesometric properties and fixed some lines:
I was curious about stacking some platoons. Here is a invasion ship with four platoons of 9 silly troopers:
Since this is still a tutorial, here a usefull file to check for wesometric properties:

---
I don't know if it's still WIP but the shading seemed to need some serious work. Here's a small sample with more detailed shading to bring up the form of wooden parts (except on the deck). Still needs drop shadows, some highlights and maybe texture on the wooden parts.
Also, I hope you all the best with the door. When I made my dwarven storage it was mere pain to do an open door.

Attachments

Ship with some (overcontrasted) shading
shipper.png (116.45 KiB) Viewed 4019 times
---
Posts: 40
Joined: April 5th, 2013, 5:30 am
If you haven't already seen it, give Krita a try. It's more drawing oriented than GIMP.
https://krita.org/en/
---
I like the additional shadding efforts. I would put the darker shades below the black lines! Moreover some wood like surface would be awesome. I still did not figure out how to do that on a large scale.

I could draw a plank, but then it would need to be bend and multiplied. So basically a pain in the butt. Photoshop might be better for that.

I do not now of this Krita.
---
That above described shading method stacks actually. So here is a second, more detailed shading layer in overlay modus added.

---
I was curious about wings. I used the original sprite colors, but added some pattern. I traced the sprite for the shapes for the digital lines. Maybe less hue and darker would be better. Here they are:

They are CC BY-NC-SA 4.0. At least that would be to the liking of Nemaara!

Last edited by
Wussel
on March 2nd, 2018, 6:57 pm, edited 1 time in total.
---
While these could work as a template, they do need to be adjusted to both fit a character, and better blend with the image. For starters, I'd recommend against black outlines.
---
Classical Wesnoth style would be outline colored in slightly darker color not black. I do however like my black lines and I want them at least 1.5 to 2 pixel wide. I am not even sure if the wings are supposed to be transparent.

The wings are designed to fit roughly with regular Wesnothian art. The distortion tool can make everything fit to everything. However I guess wings are like parachutes. One size fits all.

Please keep in mind that the left side of the picture will be most likely cropped anyway. As would be the part below the knee. Basically you would use the upper right 400x400 of this 600x600 canvas.
---
It's true that classical wesnoth style has outlines, but not for the fairy wings. Even the outlines on the sylph's wings are no more than one pixel wide, and they're not solid lines, and the wings themselves are translucent. The ones the shyde are almost white, and the wings are barely more than just lines.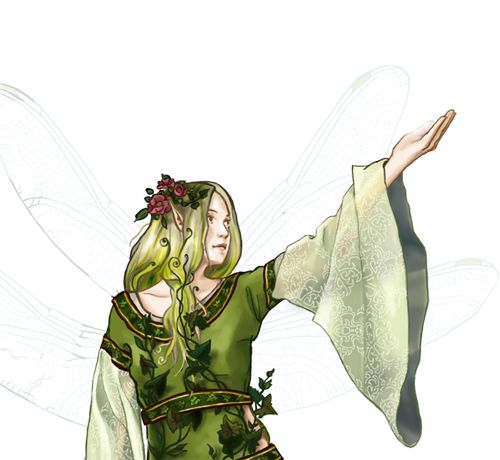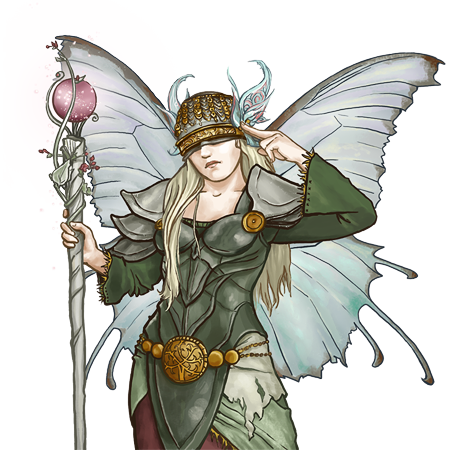 ---
... than the surrounded thingy. Sorry for being unclear. You can see in example 2 (above) clearly.
The white wings in example 1 (above) work with differences in transparency. I would recommend to stay away from this style. But you are welcome to try. Anyway my proposed method of digital drawing does not cover this.
Here you see it with removed transparency on a blue background. Not so pretty now. You can even see some fragments. Dealing with transparency is extremely technical. Gimp might not be the best for that.
I posted an example with transparency in your thread.

Here is one with less prominent wings at 50% transparency! This time Esther is posing as Shadow Lord!
---