Moderators: Forum Moderators, Developers
Forum rules
Before posting critique in this forum, you must read the following thread:
Hi, guys'n'gals!


I just wanted to see if I can handle pixle art at all (it's my first try, but it's pretty time-consuming!), so I decided to draw a courtesan picture. It's just some finger-practice, so not intended for a particular faction or era. Her body is more fragile than the usual Wesnoth-style females', but heck, what do you think of it?

---
what race is it? the sprite looks neat but i can't recognise anything in existance
Like cats? I've made a whole faction of them to kick ass with!
Don't like cats? I've made a whole faction of them to kick their asses! So everyone's happy :)
Felinian faction is part of the
Beyond Southern Hells
era
kitties need sprites!
art topic here
---
LOL, that's quite bad. I guess, it was a bad job then

No, honestly, she's human. But I guess, it's the unusual pose that makes the sprite very unrecognizable.
Ok, so I took inspiration from an
art noveau
picture.
That's what it looks like pixel-arted in a bigger resolution:
If it's still quite unrecognizable, the original, inspiring art was (not a courtesan at all only reinterpreted to that by myself):
---
Art Contributor
Posts: 3809
Joined: January 6th, 2008, 9:27 pm
Location: USA, the civilized part.
I think you'd be better off using the current sprites as a "model", and use the larger image for ideas on the details. The mainline sprites don't have realistic proportions, it looks odd when something that does is standing around next to them.
---
The head didn't have realistic proportions, but with only one eye visible and the head way off vertical, the face becomes very hard to read. (the odd angle makes the standard "two pixel eyes" impossible)

It's probably possible to make it easier to read, but other than saying "study more pixel art", I can't help you with that.
---
Posts: 537
Joined: July 21st, 2010, 9:47 pm
my peanut perception goes like this:

the cloth at the middle right seems to be continuation of the blue cloth at the bottom, but coloring it purple as if it was part of the body armor looks confusing.

the position of the head was also very unusual and therefore the head was hard to recognize.
wouldn't there be enough tension in turning to look over the shoulder already with head in normal position?
---
I think that Tet's thread about the temple would be a great inspiration, especially statues of women on this picture: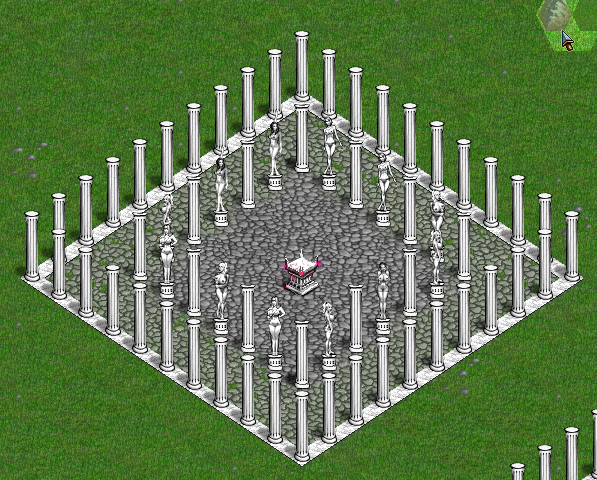 Just wrap it in some loose clothes like on this art noveau picture.
---