Moderators: Forum Moderators, Developers
Transfermium wrote:I don't think the cavalry line and formation abilities are working for the Prussians.
I have just checked them and they work fine

How do you test them?
Art Contributor
Posts: 684
Joined: February 18th, 2008, 5:32 pm
Location: The Abyss
---
Sagez wrote:@Temuchin, Cool. Thank you, I'd love to add this map, the old one needed polishing, that's for sure. That''s a topic for a lenghty discussion... How do you like those Brandenburgers, please tell.
Feel free to use my experimental version of the EEaW map in place of the existing one or alongside it.
And from what I've seen so far, I like the Prussians. I was wondering, though, are the Colonial Marines supposed to be American allies, as a nod to the fact that German mercenaries fought on the American side in the American Revolution the following century?
Posts: 1700
Joined: September 3rd, 2004, 6:35 pm
Location: Agaia
---
.I used to write to add Prussians, you did not agree and now I have been right.
Water Age version 1.8.8,2 BfW 1.13.
Posts: 25
Joined: February 4th, 2012, 1:03 pm
Location: Poland
---
Sagez wrote:I'm not and expert too. Voivode is a pretty common slavic administration rank, wojewoda in polish I guess, but does that matter? By Knyaz we ment a noble and wealthy person, with voivode we meant an official who's able to command. Did we got something wrong? Any Russians out there?
What I'm saying is, i believe Knyaz is supposed to be the lower tier, with Voivode the highest.
Posts: 55
Joined: December 7th, 2017, 7:30 am
---
Please do not confuse sevententh century
Brandenburg-Prussia
with eleventh or nineth century Prussia. I mean, that's ok with me, but we aimed for the ''Prussians'' known from the Second Northern War (1655–60) or Swedish-Brandenburgian War ('70's).
It's the general problem with EEaW that we cover this not-too-well-known period of European history (which some of you may dismiss as unsignificant eastern ruckus) - I'm talking about you, westerners! There's no Napoleon yet and no Le Roi Soleil either...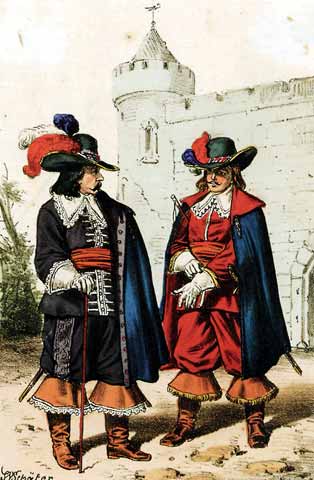 Sadly, I can't find image that we used when we were creating Colonial Marines. But by the term ''marine'' we meant a navy sailor/soldier on board/ Kolonial Korps soldat. It's a play of words, really - we didn't mean ''marine'' in a modern, american ''special forces'' meaning. Our marine = army sailor. Although if you see the certain level 2 advancement... you will think about RAMBO. XVII century Brandenburg had colonial fleet, so...
...on the other hand, colonial marines can bo seen as ''elite'' or ''special'' forces. They are equipped with machetes (to cut down bushes!) and engineering tools (not shown yet! but hammers they have for sure!) because they have to build forts in a foreign land (to defend themselves! life is dangerous you know!), to raise everything from nothing (like, Great Builders (tm) do!), building cool infrastructure (autobahn is yet to come!). 300 years later those awesome natives will kick them out (lolololol politics!), but they won't sent the roads they've build back nor the wells! Boom sticks!
But let's not get carried away! The fact is those Brandenburgers (argh=some Germans, ok?) were rather nice individuals and tried to be nice during kolonisation. We should give them more units, more Kolonial Korps! Kolonial Korps DLC I say, ok? The least of features:
- Colonial engineer units!
- Colonial officer & general!
- Colonial medic!
You gotta pay us in nice reviews to get it! But I haven't seen one review yet.
So, my dear Temuchin, no, not really, we just tried to represent those regular sailors. They were ''elite'' because they were far away from their homeland and needed to build everything from scratch. A lot of courage is needed! And they probably don't get much respect nowadays, hehe.
BTIsaac, so maybe will will just swap them?
Posts: 114
Joined: December 23rd, 2010, 8:19 pm
Location: Poland
---
The correct term is a sailor, Sagez.
@Elder but we have asked for the disclosure of all the cheese and we treat it seriously. Everyone on this site can get banned,
everyone.
@Elder ale prosiliśmy o wyjawianie wszystkich serów i traktujemy to poważnie. Każdy na tej stronie może zostać zbanowany,
każdy.
- Sagez
Posts: 304
Joined: July 11th, 2015, 2:13 pm
---
Thank you kindly sir. Any new post in this thread makes me happy

Posts: 114
Joined: December 23rd, 2010, 8:19 pm
Location: Poland
---
Sagez wrote:So, my dear Temuchin, no, not really, we just tried to represent those regular sailors.
Thanks. I learned something new today!
Posts: 1700
Joined: September 3rd, 2004, 6:35 pm
Location: Agaia
---
---
Return to Faction & Era Development
Who is online
Users browsing this forum: Ephraim and 1 guest