Ascension
These units go to 5.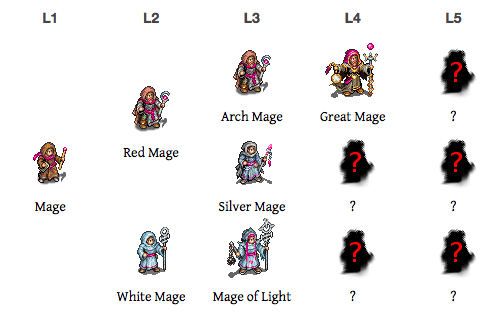 Pre-Release5 is now available for 1.6 and also for 1.8 on the add-on server.
Release Notes
PR5 includes various fixes:
Necromancers now level correctly
Drake Clashers now level correctly
Lancers now properly named
Full stats can be seen in the thread here (no longer current) or better,
at the Wesnoth unit tree web page
.
To Do
Balancing still is needed. In particular, gold and XP costs.
Support for Experimental in progress.
Level 0 units are being planned. Your thoughts and suggestions are welcome.
After returning to Wesnoth and playing several survival games, which was very new for me, I soon realized the importance of researching units at
http://units.wesnoth.org
. I soon discovered only a few units really go up to level 4. Curiously, I scoured for eras that went to level 5, but my search was fruitless.
So this is my project — to create units up to level 5 for all the multiplayer factions of the game. Where possible, I may take units and ideas from existing custom eras, but the result should remain a natural extension of the default multiplayer era, with the possibility down the road of further extensions.
This era can be used in place of the default era.
In fact, it's almost identical to the default era except it has additional units to advance to.
It is designed not to add in dramatically new unit concepts but extend the current units. So it isn't a radically new era, it is an era with modest and reasonable unit upgrades
and nothing more.
In the coming days, starting with today, I will be revealing one faction at a time, describing the new units here. When I have covered all the factions, the era will be available to download on the add-on server.
Unit Trees
(Not current — see
at the Wesnoth unit tree web page
instead.)
The Entire Unit Tree So Far:
This work has literally been ongoing for months, and is nearing completion. I've probably spent over 100 hours on this project devising names and planning out the trees. 97% of the units have been named, with stats needing some work yet but mostly done. Balancing work will of course be needed and will be ongoing even after release.
I do want to thank Zigg and TL for their efforts doing very much the same thing. (Creating new units is not easy!)
And thank you devs for the
[base_unit]
tag. That saved my behind.