Moderators: Forum Moderators, Developers
Posts: 12
Joined: October 18th, 2014, 10:33 pm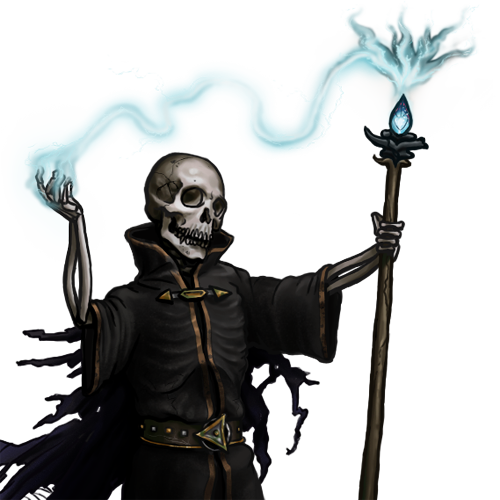 I'm trying to find clothes online that can match this outfit, but the internet seems to be empty of tattered cloaks and blue-gem staffs. Any places I can get it, or point out what specific things he's holding/wearing.
---
Forum Regular
Posts: 1158
Joined: May 24th, 2010, 5:26 pm
Location: Somewhere in the depths of Irdya, gathering my army to eventually destroy the known world.
Contact:
If you want to cosplay as a lich, then maybe you get a black mage robe, tear some bits from it and make it a it dirty (to add a ruined effect). For the staff, just use a black-coated stick and glue bits of blue plastic at the top. You can also add one of those cheap blue laser lights (they are really cheap in my country) for a glowing crystal effect. This is a low budget cosplay so you can pull it off effectively with some effort.
---
Posts: 836
Joined: September 6th, 2008, 11:08 am
Location: On the beach at sunset, gathering coral
Yup, shopping online for tattered robes is like buying torn and distressed jeans - wear your pants for a week and you'll tear them anyway.

I've made all my haloween costumes myself and even made my own clothes and recently I've crafted an Epic Rugged Backpack of Traveling (+2), I hand carved all the fastner things and the handle bit on the back out of wood, I sewed hessian, lining material and waxed canvas together mostly by hand, my fingers bled afterwards but people offered to pay me money to make them one as well.

learn to sew, it's not unmanly, it's just practical. In the old days tailors were usually men and in countries in Africa and Asia you will still find that many of the men sew.
...apparenly we can't go with it or something.
---
I believe the main ingredient of the lich-look is being dead, self-animated bones, which is hard to imitate by a living person.

Wonder if any of our artists would be willing to paint the rags from behind. Breaks the outline (and camouflages anatomy) and looks kind of good from front, but often makes precious little sense. What is this even supposed to be? How does it hold together? I personally imagine dark mages to be well groomed, more like bankers. (My takeaway from trying to sprite the dark adept from behind.)
I am a Saurian Skirmisher: I'm a real pest, especially at night.
---